Prayers from the Kuki-Naga conflict: living through violence in Manipur
Asojini Rachel Kashena

North Eastern Social Research Centre
Abstract
This article offers an ethnographic account of individuals using Christian prayer as a coping strategy - one among others - in their process of healing in the aftermath of the traumas that resulted from the loss of their spouses during the Kuki-Naga ethnic violence that occurred between 1992 and 1998. Relationship with God through prayer provides some succour for people to cope with personal loss in militarised societies across Kangpokpi region in Manipur. Among the survivors, constant acknowledgement of God reveals a particular understanding of religion and of faith, which helps them mitigate their trauma and loss through forgiveness and validation of humanity.
References
Abrams, R. 2013. When parents die: Learning to live with the loss of a parent (3rd Edition ed.). London: Routledge.

Andrews, M. F. 2005. How (not) to find God in all things: Derrida, Levinas and St. Ignatius of Loyola on Learning to Pray for the Impossible. In The Phenomenology of Prayer (eds.) B. E. Benset, & N. Wirzba, 195-208. New York: Fordham University Press.

Barooah, J. 2002. Property and Women's Inheritence Rights in the Tribal Areas of the North East. In Changing Women's Status in India: Focus on the Northeast (eds) W. Fernandes & S. Barbora, 99-113. Guwahati: North Eastern Social Research Centre.

Bensent, B. E. & N Wirzba. 2005. The Phenomenology of Prayer. New york: Fordham University Press.

Bonanno, G. A. 2008. Loss, Trauma and Human Resilience: Have We Underestimated the Human Capacity to Thrive After Extremely Aversive Events? Psychological Trauma: Theory, Research, Practice and Policy S1, 101-113.

Butalia, U. 1998. The Other Side of Silence: Voices from the Partition of India. New Delhi: Penguin Books.

Convention, M. B. 1997. The First One Hundred Years of Christianity in Manipur. Imphal: The MBC Literature Committee.

Cottingham, J. 2002. On the Meaning of Life: Thinking in Action. London: Routledge.

Das, V. 2007. Life and Words: Violence and Descent into the Ordinary. Berkeley: University of California Press.

Dena, L. 2007. The Kuki-Naga Conflict: Juxtaposed in the Colonial Context. In Dynamics of Identity and Inter-group Relations in North-East India (ed) K. S. Aggarwal, 182-187. Shimla: Indian Institute of Advanced Study.

Dena, L. 2010. AMCO's Peace Efforts During the Kuki-Naga Conflict, 1992-1994. Kuki International Forum.

Disney, A.E. & G. Recticker. 2008. Pray the Devil Back to Hell. New York: Abigail Disney.

Downs, F. S. 1993. Essays on Christianity in North-East India. New Delhi: Uppal Publishing House.

Elwin, V. 1961. Nagaland. Shillong: P. Dutta for the Research Department, Adviser's Secretariat.

Frankl, V. E. 1984. Man's Search for Meaning. New York: Washington Square Press publication of Pocket Books.

Goodman, J. H. 2004. Coping with trauma and hardship among unaccompanied refugee youths from sudan. In Qualitative Health Research 14, 1177-1196.

Guite, J., 2013. Colonialism and Its Unruly? The Colonial State and Kuki Raids in Nineteenth Century Northeast India. In Modern Asian Studies 48, 1188-1232.

Harrington, J. A. 1972. Violence: A Clinical Viewpoint. In The British Medical Journal 1(5794), 228-231.

Joshi, V. 2012. A Matter of Belief: Christian Conversion and Healing in Nort-East India. New York: Berghahn Books.

Kabui, G. 1994. The Naga-Kuki Ethnic Conflict. In Economic News and Views, 17.

Karlsson, B. G. 2002. Entering into the Christian Dharma: Contemporary Tribal Conversions in India. In Christians, Cultural Interactions and India's Religious Traditions (eds) J. M. Brown & R. E. Frykenberg. London: William B. Eerdsman Publishing Company.

Kikon, D. 2002. Political Mobilisation of Women in Nagaland: A Sociological Background. In Changing Women's Status in India: Focus on the Northeast (eds) W. Fernandes & S. Barbora. Guwahati: North Eastern Social Research Centre, 174-182.

Kikon, D. 2004. Experiences of Naga Women in Armed Conflict: Narratives from a militarised Society. New Delhi: WISCOMP.

Kikon, D. 2005. Engaging Naga Nationalism: Can Democracy Function in Militarised Societies? In Economic and Political Weekly 40, 2833-2837.

Konnikova, M. 2015. You Have No Idea What Happened. In The New Yorker.

Kreidie, L. H. & K. R. Monroe. 2002. Psychological Boundaries and Ethnic Conflict: How Identity Constrained Choice and Worked to turn out Ordinary People into Perpetrators of Ethnic Violence during the Lebanese Civil War. In International Journal of Politics, Culture and Society 16, 5-36.

Kristensen, P., L. Weisaeth & T. Heir. 2012. Bereavement and Mental Health After Sudden and Violent Loss: A Review. In Psychiatry, Interpersonal & Biological Processes 75, 76-97.

LaCapra, D. 1999. Trauma, Absence and Loss. In Critical Inquiry 25, 696-727.

Larson, C. C. 2009. As we forgive. Grand Rapids: Zondervan.

Lederach, J. P. & A.J. Lederach. 2010. When Blood and Bones Cry out: Journeys through the Soundscape of Healing and Reconciliation. New York: Oxford University Press.

Longkumer, A. The Power of Persuasion: Hindutva, Christianity, and the discourse of religion and culture in Northeast India. Unpublished paper presented in 2013 conference Far From the Nation: Close to the State: Hazy Sovereignty and Anxious Citizenship in India's Northeast, Stanford University.

Longkumer, A. 2010. Reform, Identity and Narratives of Belonging: The Heraka Movement in Northeast India. London: Continuum International Publishing Group.

Mamdani, M. 2001. When Victims Become Killers: Colonialism, Nativism, and the Genocide in Rwanda. New Jersey: Princeton University Press.

Mancini, A., & G.A. Bonanno. 2006. Resilience in the face of potential trauma: Clinical practices and illustrations. In Journal of Clinical Psychology 62, 971-985.

Mohan, S. 2016. "Creation of Social Space through Prayers among Dalits in Kerala, India. In Journal of Religious and Political Practice. 2, 40-57.

Nuh, V. K. 2006. 165 Years History of Naga Baptist Churches. Kohima: Naga Baptist Church Council.

Petersen, R. D. 2002. Understanding Ethnic Violence: Fear, Hatred and Resentment in Twentieth-Century Eastern Europe. Cambridge: Cambridge University Press.

Ross, E. K. 1969. On Death and Dying. New York: The Macmillan Company.

Singh, A. K. 2008. Ethnicity and Inter-Community Conflicts: A Case of the Kuki-Naga in Manipur. New Delhi: Akansha Publications.

Singh, D. K. 1996. The early days of William Pettigrew among the Tangkhul. In Rev. William Pettigrew (A Pioneer Missionary of Manipur) (eds) P. C. Committee, 70-78. Imphal: Fraternal Green Cross, VVD.

Sproul. R. C. 2014. The Place of Prayer in the Christian life. In Ligonier Ministries: The Teaching Fellowship of R.C. Sproul. Online source www.ligonier.org/blog/place-prayer-christian-life/ Accessed on January 11, 2017.

Theidon, K. 2006. The Mask and the Mirror: Facing up to the Past in Post war Peru. In Anthropologica, Canadian Anthropology Society 48, 87-100.

Thiranagama, S. 2013. In my Mother's House: Civil War in Sri Lanka. Philadelphia: University of Pennsylvania Press.

Thomas, J. 2016. Evangelising the Nation: Religion and the Formation of Naga Political Identity. New Delhi: Routledge.

Thompsom, M. & P. Vardaman. 1997. The role of religion in coping with the loss of a family member to homicide. In Journal for the Scientific Study of Religion 36, 44-51.

Tohring, S. 2010. Violence and Identity in North-East India: Naga-Kuki Conflict. New Delhi: Mittal Publications.

Tutu, D. M. 1999. No Future Without Forgiveness. New York: Doubleday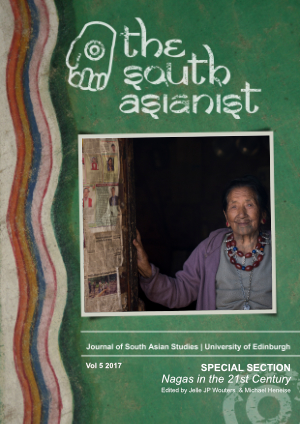 How to Cite
Kashena, A. (2017). Prayers from the Kuki-Naga conflict: living through violence in Manipur. The South Asianist, 5(1). Retrieved from http://www.southasianist.ed.ac.uk/article/view/1850
Section
Special Section - Nagas in the 21st century

This is an Open Access journal. All material is licensed under a Creative Commons Attribution-NonCommercial-ShareAlike 4.0 International (CC BY-NC-SA 4.0) licence, unless otherwise stated.
Please read our Open Access, Copyright and Permissions policies for more information.