Continuity and change in Hao Naga Festivals
Somingam Mawon

Firebird Foundation Fellow
Abstract
Festivals can be approached as sites for examining the relationship between indigeneity and assimilationist modernity, and this chapter explores the ways in which Hao (Tangkhul) Naga festivals index cultural continuity and change in Manipur. Since the new millennium, festivals have become a focal point for state-sponsored tourism, as well as for resurgent, and increasingly self-conscious, indigenous identity performance (Longkumer 2013). Globalising indigeneity, spurred by the 2007 UN Declaration on the Rights of Indigenous Peoples, as well as the growing economic influence of nostalgic indigenous diaspora, have also contributed to shaping and re-shaping local festivals. This chapter looks specifically at the Hao Luira- seed-sewing festival - the largest and most important annual festival for 200,000 Hao Nagas living in Manipur and across the border in Myanmar, and identifies some of the subtle and not-so-subtle ways local communities creatively accept and refuse change.
References
Hobsbawm, Eric & Terence Ranger (eds.) (2000 [1983]), The Invention of Tradition, Cambridge: Cambridge University Press.

Hodson, T.C. (1975 [1908]), The Meitheis. Michigan: University of Michigan.

Horam, M. (1977), Social and Cultural Life of Nagas (The Tangkhul Nagas), Delhi: B. R. Publishing Corporation.

Longkumer, Arkotong (2013), 'Who sings for the Hornbill? The performance and politics of culture in Nagaland, Northeast India', The South Asianist, 2(2): 87-96.

Longvah, Shangkahao (2001), Nagawui Kharing-Kharak (The Life style of the Nagas), Imphal: Goodwill Press.

Lotha, Abraham (2013), The Raging Mithun: Challenges of Naga Nationalism, Kohima: Barkweaver Publications.

Luikham, R. (ed.) (2002), Phungyo Baptist Church History 1901-2001, Ukhrul: Phungyo Baptist Church.

Luikham, R. (2009), Tangkhul Land Use System and Related Custom, Ukhrul: Ukhrul District Community Resources Management Society (UDCRMS).

Luikham, T. (1961), Wung (Tangkhul) Naga Okthot Mayonza, Imphal: Tarun Printing Work.

Lunghar, Maiya Kachui (1986), Hao Mi-un Ngashan kala Tangkhul Khararchan (History of Tangkhul), Imphal: Goodwill Press.

Mawon, S. (2014), 'Understanding the Origin of the terms 'WUNG', 'HAO', and 'TANGKHUL'', International Research Journal of Social Sciences, 3 (5): 36-40.

____ (2015), Traditional Tangkhul Naga festivals: A study of the use of music and musical instruments, PhD. Thesis, North-Eastern Hill University.

____ (2016), 'Reading continuities and change in vernacular architecture among the Hao Naga', The South Asianist, 4(2): 182-194.

NKJV (1988). The Holy Bible, Nashville: Broadman & Holman Publishers.

Pheirei, Peter (2010), Tangkhul Wung Hao Customary Law, Imphal: Goodwill Press.

Ruivah, Khashim (1993), Social Change among the Nagas (Tangkhul), New Delhi: Cosmo Publications.

Sangma, Milton S. (1987), History of American Baptist Mission in North-East India (1836-1950), Volume I. Delhi: Mittal Publications.

Sema, H. John (2013), Traditional and Modern Political Institutions of the Nagas, New Delhi: Mittal Publications.

Shimray, A.S.W. (2001), History of the Tangkhul Nagas, New Delhi: Akansha Publishing House.

Shimray, Sothing W.A. (2000), The Tangkhuls, Imphal: Goodwill Press.

Solo, Jonah M and K. Mahangthei (2006), Forty Years Mission in Manipur: Mission Reports of Rev. William Pettigrew, Imphal: Christian Literature Centre.

Wouters, Jelle J P. (2015), 'Feasts of Merit, Election Feasts, or No Feasts? On the politics of wining and dining in Nagaland, Northeast India', The South Asianist, 3(2): 5-23.

Zeliang, Elungkiebe (2005), A History of the Manipur Baptist Convention, Jorhat: Manipur Baptist Convention.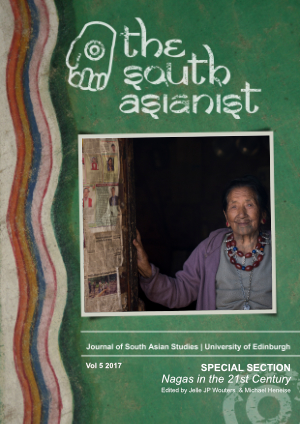 How to Cite
Mawon, S. (2017). Continuity and change in Hao Naga Festivals. The South Asianist, 5(1). Retrieved from http://www.southasianist.ed.ac.uk/article/view/1657
Section
Special Section - Nagas in the 21st century

This is an Open Access journal. All material is licensed under a Creative Commons Attribution-NonCommercial-ShareAlike 4.0 International (CC BY-NC-SA 4.0) licence, unless otherwise stated.
Please read our Open Access, Copyright and Permissions policies for more information.