The 'avenging angel' and the 'nurturing mother': women and Hindu nationalism
Geetika Raman

University of Edinburgh
Abstract

Hindu nationalism presents Indian women with a variety of challenges and opportunities. This essay begins by looking at the historical origins of Hindu nationalism in the colonial period, particularly with respect to the role of women in this period of nationalism. It also considers the role of masculinity in Hindutva politics, and the idea of the 'defilement' of Mother India by Muslim invaders, as well as the perceived virility of Muslim and Hindu men contested in the female body, through sexual violence. It also looks at women's empowerment in the context of right-wing nationalism and militancy and the public role of women in the Sangh Parivar. The essay then focuses on the view of the Shiv Sena on women, especially in the Bombay riots of 1993. The essay concludes that Hindutva politics attempt to marry two visions of the woman: one as a nurturing mother, the other as a warrior goddess. Women's empowerment in this framework is limited to roles that conservative leaders link to 'tradition' and purity.
References
• Anand, Dibyesh (2007), 'Anxious Sexualities: Masculinity, Nationalism and Violence'. British Journal of Politics & International Relations, 9 (2): 257-269

• Banerjee, Sikata (1996), 'The Feminization of Violence in Bombay: Women in the Politics of the Shiv Sena'. Asian Survey, 36 (12): 1213-1225

• Bharucha, Rustom (1995), 'Dismantling Men: Crisis of Male Identity in 'Father, Son and Holy War'. Economic and Political Weekly, 30 (26): 1610-1616

• Chatterjee, Partha (1989), 'Colonialism, Nationalism, and Colonized Women: The Contest in India'. American Ethnologist, 16 (4): 622-633

• de Alwis, Malathi; and Jayawardena, Kumari (1996), 'Embodied Violence: Communalising Women's Sexuality in South Asia'. Reproductive Health Matters 4 (8), Fundamentalism, Women's Empowerment and Reproductive Rights: 162-166

• Kishwar, Madhu (1995), 'Safety is Indivisible: The Warning from Bombay Riots'. Manushi No. 74-75 (Jan- Apr)

• Mazumdar, Sucheta (1995), 'Women on the March: Right-Wing Mobilization in Contemporary India'. Feminist Review, No. 49, Feminist Politics: Colonial/ Postcolonial Worlds: 1-28

• Mehta, Deepak (2006), 'Collective Violence, Public Spaces, and the Unmaking of Men'. Men and Masculinities, 9 (2): 204-225

• Sethi, Manisha (2002), 'Avenging Angels and Nurturing Mothers: Women in Hindu Nationalism'. Economic and Political Weekly, 37 (16): 1545-1552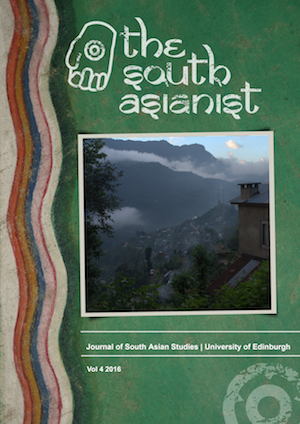 How to Cite
Raman, G. (2015). The 'avenging angel' and the 'nurturing mother': women and Hindu nationalism. The South Asianist Journal, 4(2). Retrieved from http://www.southasianist.ed.ac.uk/article/view/965
Section
Exploratory Essays

This is an Open Access journal. All material is licensed under a Creative Commons Attribution-NonCommercial-ShareAlike 4.0 International (CC BY-NC-SA 4.0) licence, unless otherwise stated.
Please read our Open Access, Copyright and Permissions policies for more information.