Public health and human rights in Chhattisgarh: An interview with Dr. Binayak Sen
Abstract
A preview of this inaugural issue of The South Asianist was unveiled during a special event honouring public health practitioner and human rights defender Dr. Binayak Sen on 14th June, 2012 at the School of Social and Political Science at Edinburgh University. Dr. Jeevan Sharma, a member of the journal's Advisory Board sat down to interview Dr. Sen following the reception to discuss human rights and public health in India, and more specifically his own work, struggles, and accomplishments as one of the leading human rights advocates and activists in South Asia.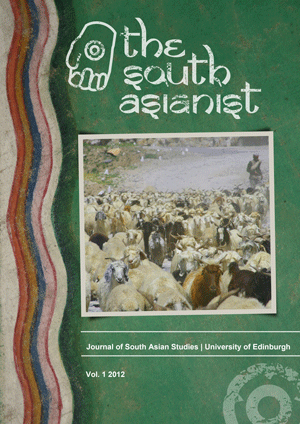 How to Cite
Sharma, J. (2012). Public health and human rights in Chhattisgarh: An interview with Dr. Binayak Sen. The South Asianist Journal, 1(1). Retrieved from http://www.southasianist.ed.ac.uk/article/view/40

This is an Open Access journal. All material is licensed under a Creative Commons Attribution-NonCommercial-ShareAlike 4.0 International (CC BY-NC-SA 4.0) licence, unless otherwise stated.
Please read our Open Access, Copyright and Permissions policies for more information.