Migrant mothers, family breakdown, and the modern state: an analysis of state policies regulating women migrating overseas for domestic work in Sri Lanka
Asha Abeyasekera

Faculty of Graduate Studies, University of Colombo

Ramani Jayasundere

Independent
Abstract
This paper aims to critically examine the Family Background Report Circular (2013) and analyse its implications as a policy document from a feminist perspective. The paper then draws from a research study conducted in four districts to ascertain the response to the policy as well understand impact of the implementation of the policy on the lives of migrant women workers and migrant-hopefuls. 
References
ABEYASEKERA, A. 2010. Youth Mobility and Overseas Migration in Sri Lanka. In: GUNATILAKA, R., M. MAYER & M. VODOPIVEC (eds.) The challenge of youth employment in Sri Lanka. World Bank Publications. https://openknowledge.worldbank.org/bitstream/handle/10986/2451/544340PUB0EPI010BOX0349415B1PUBLIC1.pdf?sequence=1

AMARASURIYA, H. 2010. Guardians of childhood. State, class, and morality in Sri Lankan bureaucracy. PhD Thesis, University of Edinburgh & Queen Margaret University.
BARROW, C. 2001. Contesting the rhetoric of'black family breakdown'from Barbados. Journal of Comparative Family Studies, 419-441.

BENGTSON, V. L. 2001. Beyond the nuclear family: The increasing importance of multigenerational bonds. Journal of Marriage and Family, 63(1), 1-16.

BERNHARD, J. K., P. LANDOLT & L. GOLDRING 2009. Transnationalizing Families: Canadian Immigration Policy and the Spatial Fragmentation of Care‐giving among Latin American Newcomers1. International Migration, 47(2), 3-31.

D'CRUZ, P. & S. BHARAT 2001. Beyond joint and nuclear: The Indian family revisited. Journal of Comparative Family Studies, 167-194.

DIAS, M. & R. JAYASUNDERE 2006. Sri Lanka. The Anxieties and Opportunities of Out-Migration. In: PONG-SUL, A. (ed.) In Migrant Workers and Human Rights. Out-Migration from South Asia Geneva and New Delhi: International Labour Organization (ILO).

GAMBURD, M. R. 2000. The Kitchen spoon's handle. Transnationalism and Sri Lanka's migrant housemaids, Ithaca, Cornell University Press.

JACKSON, C. & R. PEARSON 2005. Feminist visions of development: gender analysis and policy, Routledge.

KOTTEGODA, S. 2004. Negotiating Household Politics. Women's Strategies in Urban Sri Lanka, Colombo: Social Scientists' Association.

KOTTEGODA, S. 2006. 'Bringing home the money: Migration and poverty in gender politics in Sri Lanka. Poverty, gender and migration, 49-71.

KOTTEGODA, S. JAYASUNDERE, R. PERERA, S. and ATAPATTU, P. 2013. Transforming Lives: Listening to Sri Lankan Returnee Women Migrant Workers. Colombo: Women and Media Collective.

MILARDO, R. M. 2009. The forgotten kin: Aunts and uncles, Cambridge University Press.

MINISTRY OF FOREIGN EMPLOYMENT PROMOTION AND WELFARE 2013. Migration Profile Sri Lanka. Colombo: Institute of Policy Studies. http://www.ips.lk/ips_migration/publication/migration_profile/migration_profile_ips.pdf

OSELLA, C. 2012. Desires under reform: Contemporary reconfigurations of family, marriage, love and gendering in a transnational south Indian matrilineal Muslim community. Culture and Religion, 13(2), 241-264.

POPENOE, D. 1993. American family decline, 1960-1990: A review and appraisal. Journal of Marriage and the Family, 527-542.

WAXLER-MORRISON, N. 2004. Who Will Care for Those Left at Home? The Effect of New Opportunities for Work on Families in Sri Lanka. In: HASBULLAH, S. H. & B. H.
MORRISON (eds.) Sri Lankan society in an era of globalization: struggling to create a new social order. New Delhi: Sage Publications.

WIDMER, E. 2010. Family configurations: A structural approach to family diversity, Ashgate Publishing, Ltd.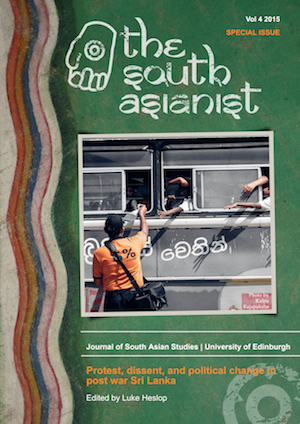 How to Cite
Abeyasekera, A., & Jayasundere, R. (2015). Migrant mothers, family breakdown, and the modern state: an analysis of state policies regulating women migrating overseas for domestic work in Sri Lanka. The South Asianist Journal, 4(1). Retrieved from http://www.southasianist.ed.ac.uk/article/view/1264

This is an Open Access journal. All material is licensed under a Creative Commons Attribution-NonCommercial-ShareAlike 4.0 International (CC BY-NC-SA 4.0) licence, unless otherwise stated.
Please read our Open Access, Copyright and Permissions policies for more information.