Fusing worlds of coconuts: the regenerative practice in precarious life-sustenance and fragile relationality in Sri Lanka
Abstract
This article sets out to initiate a comparative framework for the analysis of food in its multiple articulations. Food is comprehended as a co-production and entanglement of two dynamics: precarious life-sustenance and fragile relationality. I illustrate this frame by discussing how 'the coconut' among the Sinhalese mediates the regeneration of a whole cosmos and within this, the relative positions of human and non-human entities, their altering inter-relations and, negotiations of life and death. These negotiations and relationalities constitute two dynamics which continue to operate in between the wider regeneration of the cosmos and the particular events in which they are articulated specifically. This is illustrated by three rituals in which the coconut takes on the role of mediator of sustenance and relationality within the regeneration of worlds.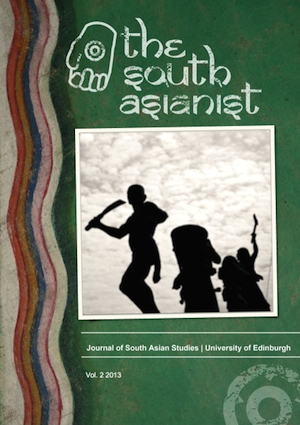 How to Cite
Van Daele, W. (2013). Fusing worlds of coconuts: the regenerative practice in precarious life-sustenance and fragile relationality in Sri Lanka. The South Asianist Journal, 2(2). Retrieved from http://www.southasianist.ed.ac.uk/article/view/85

This is an Open Access journal. All material is licensed under a Creative Commons Attribution-NonCommercial-ShareAlike 4.0 International (CC BY-NC-SA 4.0) licence, unless otherwise stated.
Please read our Open Access, Copyright and Permissions policies for more information.