South Asian Anthropologist's Group (SAAG) 2012
2012 SAAG Organising Committee
Abstract
Persons, Bodies and the State in South Asia: Changing Concepts and Relations
4-6th September 2012
Social Anthropology and the Centre for South Asian Studies,
University of Edinburgh

The 2012 SAAG workshop aims to investigate the interrelated themes of persons, bodies and the state in South Asia, and explore the continuities and changes in how these concepts affect everyday lives in the sub-continent and in the diaspora. We invite a broad and creative engagement with these themes and anticipate a wide range of papers that explore how such concepts intersect with, for example, labour practices; health and well-being; political mobilisation; the law and legal entitlements; intimate relationships; new technologies; religion; and bio-security. We hope to provoke debate about how past understandings of persons and bodies held currency through changing social, political and economic circumstances, and what is illuminated anew as we re-visit them in contemporary South Asia.

As global markets have created new possibilities for the commoditisation of bodies, have ideas shifted about the body, personhood and what it means to be a citizen? Looking across the region, can we understand more about how contentions between states influence the ways in which states differentiate persons within a state - e.g. on the basis of religious or ethnic identities?

Have democracies in South Asia created more or less space for the recognition of diverse forms of personhood? How have different communities re-shaped expressions of personhood in relation to particular policies of the state – e.g. emphasising ethnic or caste identities? How has the development industry's focus on certain kinds of bodies (e.g. malnourished, HIV infected, disabled) and certain kinds of persons (e.g. mothers, children, refugees, 'indigenous' people) influenced how people see themselves, and the ways in which states engage with these people? Underlying all these questions is the issue of how certain groups of people, or certain kinds of bodies become politicised.

In what ways are digital technologies creating new possibilities for expanding our understandings of personhood and creating new opportunities for state control of populations – e.g. through digitalising census records and ID documents? How have these technologies, and the emergence more broadly of new kinds of social spaces and networks, also presented new possibilities for intimacy, love and relationships? How have social and political movements used particular bodily practices to establish certain concepts of personhood?

SAAG 2012 will be hosted jointly by Social Anthropology and the Centre for South Asian Studies from the 4th to the 6th, September 2012 in the Chrystal Macmillan Building, 15A George Square, Edinburgh, EH8 9LD. Lunch and refreshments will be provided for which a small contribution will be required. We also hope to provide some travel bursaries, which will be announced later, but potential participants are encouraged to look for other funding opportunities.

SAAG is a relaxed and friendly event which aims to stimulate intellectual debate and dialogue on current research and emerging issues in the study of South Asia. Papers will be pre-circulated to participants and the format for panels will be: paper presentation by discussant, author's response and then open discussion. As usual, we welcome paper proposals from people at any stages of their academic careers, from first year PhD students onwards.

If you are interested to attend, submit a paper, or act as a discussant for SAAG 2012, please contact 2012saag@gmail.com. For those proposing a paper, please send a title and brief abstract by April 30th 2012.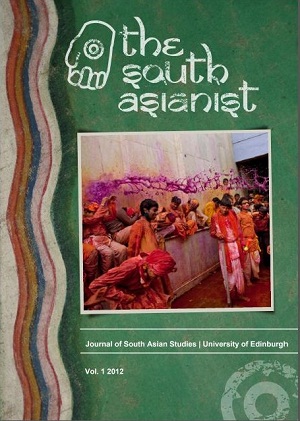 How to Cite
Organising Committee2. (2012). South Asian Anthropologist's Group (SAAG) 2012. The South Asianist Journal, 1(2). Retrieved from http://www.southasianist.ed.ac.uk/article/view/62

This is an Open Access journal. All material is licensed under a Creative Commons Attribution-NonCommercial-ShareAlike 4.0 International (CC BY-NC-SA 4.0) licence, unless otherwise stated.
Please read our Open Access, Copyright and Permissions policies for more information.