Competitive sharing
Sri Lankan Hindus and Up-country Tamil religiosity at the Sri Pada Temple
Premakumara De Silva

University of Colombo
Abstract
The paradox of politics and nationalism in modern Buddhist polities is particularly acute in Sri Lanka, a historically multicultural and multi-faith island where four great world religions – Buddhism, Hinduism, Islam and Christianity, a range of indigenous spirit beliefs, pilgrimages and astrology, have coexisted for centuries. This paper explained how such plural worship, particularly Hindu worship at Sri Pada temple, began to fade away with the advent of hegemonic Sinhala Buddhist Nationalism in (post) colonial Sri Lanka while to some extent accommodating a group of Up-country Tamil Hindus who accept the dominance of Sinhala Buddhist polity. Historically speaking, Sri Pada would have been the model for the post- colonial state formation where all ethnic communities could have been accommodated and respected as full citizens of Sri Lanka. Like modern Sri Pada, the state that has been created in post-colonial Sri Lanka became a model of Sinhala Buddhist dominance in which minority groups have not been accommodated to express their concerns without subscribing to the Buddhist dominance. The state should be able to function without immediately putting into question the political loyalty of a group whose religious allegiance is different from the ruler's. The use of shrines as symbols of dominance is not limited to Buddhism in Sri Lanka and, as Hayden explains, it is quite evident in Non-Buddhist religions in South Asia and the Balkans and even beyond such regions.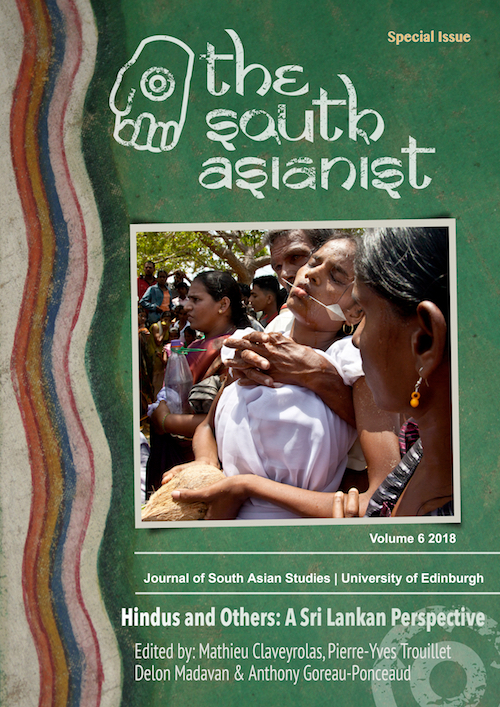 How to Cite
De Silva, P. (2018). Competitive sharing. The South Asianist Journal, 6(1), 22. Retrieved from http://www.southasianist.ed.ac.uk/article/view/2840

This is an Open Access journal. All material is licensed under a Creative Commons Attribution-NonCommercial-ShareAlike 4.0 International (CC BY-NC-SA 4.0) licence, unless otherwise stated.
Please read our Open Access, Copyright and Permissions policies for more information.