Rāmakṛṣṇa's samādhi revisited
Narasingha Prosad Sil

Western Oregon University
Abstract
The nineteenth-century priest of the Kālī temple at the village of Dakṣiṇeśvar near Calcutta, Rāmakṛṣṇa Paramahaṁsa, has been famous for his frequent bhava [emotional state or mood] or ecstasy, and samādhi or syncope [temporary loss of consciousness], believed to be a fallout of his divine madness [divyonmattata]. This madness is not to be understood as mental derangement but as a respectable erratic behaviour culturally associated with the state of a mystic. The Hindu Bhakti [devotional] movement produced numerous saints who appear, from the standpoint of society, as 'crazy', because of their indifference to the phenomenal world. In fact, Rāmakṛṣṇa consciously and forcefully imitated the reported ecstatic (and erratic) behaviour of Śrī Caitanya. This paper offers a critique of the pious and hagiographical accretions of the master's divine madness and explores the motivations and modalities of his frequent withdrawal from the sensate world in large gatherings or in small groups, there being no clear or attestable account of his samādhi when no onlooker was around. Rāmakṛṣṇa's reminiscence of his lone attempted suicide in the temple sanctum, thwarted by an epiphany, has been colourfully crafted and carefully circulated by his disciple biographer Svāmī Sāradānanda, but duly debunked by the saint's famous record-keeper and biographer Mahendranāth Gupta. This paper thus mines the vernacular texts in search of the making of a Hindu mystic.
References
Akṣaycaitanya, Brahmacārī (1378 BE). Ṭhākur Śrīrāmakṛṣṇa. Third ed. Calcutta: Calcutta Book House Private Limited, 1393 BE.

Atlas, J. (1990). 'Understanding the correlation between childhood punishment and adult hypnotizability as it impacts on the command power of modern 'charismatic' political leaders," The Journal of Psychohistory 17 (3): 309-318.

Basu, M. (1981), Ramakrishna sadhan parikrama: Ramakrishna's spiritual practice--A study. Calcutta: Mira Basu.

Choudhary, K.P.S. (1965), 'The Early Mystic Experiences of Sri Ramakrishna,' Vedanta Kesari 51 (March): 557.

Clément, C. (1994), Syncope: The philosophy of rapture (trans. O'Driscall, S. & Mahoney, D. M.), Minneapolis: University of Minnesota Press.

Deikman, A. J.  (1969), 'Deautomatization and the Mystic Experiences', in C.T. Tart, ed., Altered State of Consciousness: A Book of Readings, New York: John Wiley & Sons: 23-43.

Dhar, N. (1977), Vedanta and Bengal Renaissance. Calcutta: Minerva Associates (Publications) Private Limited.

Dimock, E. (1999), The Chaitanya charitamrita of Krishnadasa Kaviraja (ed. Stewart, T.K.), Cambridge, MA: Harvard University Press.

Diwakar, R. (1970), Paramahamsa Sri Ramakrishna. Bombay: Bharatiya Vidya Bhavan.

Eliade, M. (1976), Patanjali and yoga (trans. Markmann, C.L.), New York: Schocken Books.

Feurstein, G. (1990), Holy Madness: The shock tactics and radical teachings of crazy-wise adepts, holy fools and rascal gurus, New York: Arkana.

Finlan, S. and Kharlamov, V. (eds.) (2006), Theosis: Deification in Christian theology, Eugene: Pickwick Publications.

Finn, G. (1992), 'The politics of spirituality: The spirituality of politics', in Philippa Berry and Andrew Wernick (eds.), Shadow of spirit: Postmodernism and religion, London: Routledge: 111-22.

Fliess, R. (1973), Psychoanalytic Series. Vol. III. Symbol, dream, and psychosis, New York: International Universities Press, Inc.

Ghoṣ, G. (1388 BE), Ṭhākur Śrīrāmakṣṇa o Svāmī Vivekānanda, (eds. Shankariprasad Basu and Bimalkumr Ghosh), Calcutta: Mandal Book House.

Isherwood, C. (ed.), (1948), Vedanta for the western world. London: George Allen & Unwin Ltd. 

Joshi, K.S. (1965), 'Is samadhi a state of concentration?' The Philosophical Quarterly 37 (1): 55-59.

Kakar, S. (1978), The Inner-World: A psycho-analytic study of childhood and society in India, Delhi: Oxford University Press.

Kinsley, D. (1974), '"Through the looking glass": Divine madness in Hindu religious tradition', History of Religions 12 (4): 270-305.

Kinsley, D. (1979), The Divine player (A Study of Krishna Lila), Delhi: Motilal Banarsidass.

Kripal, J. J. (1998), Kali's Child: The mystical and the erotic in the life and teachings of Ramakrishna, Chicago: University of Chicago Press.

Le Guin, Ursula (2000), The left hand of darkness, New York: Ace Books. Sil Firma KLM Private Limited.

Ramachandran, V. S. and Blakeslee, S. (1999), Phantom in the brain: Probing the mysteries of the human mind, New York: William Morrow Paperbacks.

Sarkar, S. (1993), An Exploration of the RamakrishnA Vivekananda tradition, Shimla: Indian Institute of Advanced Study.

Śāstrī, Ś. (1979), Racnāsaṁgraha: Ātmacarit. Rāmtanu Lāhirī o tatkālīn baṅgasamāj, 2 vols., Kalikātā: Sākṣaratā Prakāśan.

Sen, A. (1378 BE), Śrīrāmakṛṣṇapuṅthi: Śrīrāmakṛṣṇer caritāmṛta, Kalikātā: Udbodhan Kāryālay.

Sil, N.P. (2014), "Rabindranath Tagore's aesthetics revisited." In idem, Rabindra miscellany: Critical essays on Rabindranath Tagore's thoughts on love, life, gender, God, and patriotism, Bratislava: Slovak Academic Press, ch. 2: 31-48.

Sil, N. P. (2009), Crazy in love of God: Ramakrishna's caritas divina, Selinsgrove: Susquehanna University Press/Cranbury: Associated University Presses.

Sil, N. P. (2003), Divine dowager: The life and teachings of Saradamani the holy mother, Selinsgrove: Susquehanna University Press/London: Associated University Presses.

Tapasyānanda, Svāmī (1986), Sri Ramakrishna: Life and teachings (an interpretive study), Mylapore: Sri Ramakrishna Math.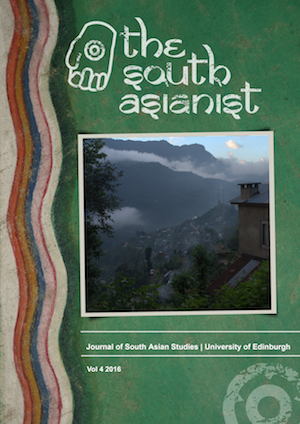 How to Cite
Sil, N. (2016). Rāmakṛṣṇa's samādhi revisited. The South Asianist Journal, 4(2). Retrieved from http://www.southasianist.ed.ac.uk/article/view/1486

This is an Open Access journal. All material is licensed under a Creative Commons Attribution-NonCommercial-ShareAlike 4.0 International (CC BY-NC-SA 4.0) licence, unless otherwise stated.
Please read our Open Access, Copyright and Permissions policies for more information.