From Untouchable to Dalit and beyond: New directions in South Indian Dalit politics
Hugo Gorringe

University of Edinburgh
Abstract
In 1999, following a decade long boycott of the political process the Viduthalai Chiruthaigal Katchi - the largest Dalit movement in Tamil Nadu - contested elections for the first time. This paper will examine the process of institutionalisation that has occurred since that point. One of the main changes to have occurred is that the party has sought to reach out beyond the Dalit category in order to secure more votes. Increasingly, thus, Dalit parties in Tamil Nadu are taking up the issue of Tamil nationalism in a bid to reach out to other castes on an ethno-linguistic basis. The paper will chart the pros and cons of such an approach before thinking about possible future directions.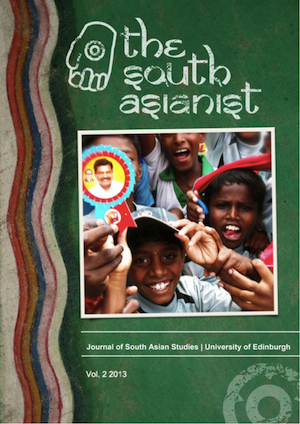 How to Cite
Gorringe, H. (1). From Untouchable to Dalit and beyond: New directions in South Indian Dalit politics. The South Asianist Journal, 2(1). Retrieved from http://www.southasianist.ed.ac.uk/article/view/146

This is an Open Access journal. All material is licensed under a Creative Commons Attribution-NonCommercial-ShareAlike 4.0 International (CC BY-NC-SA 4.0) licence, unless otherwise stated.
Please read our Open Access, Copyright and Permissions policies for more information.