Living as a 'minority': A case of Buddhist-Dalits in contemporary Uttar Pradesh
Kenta Funahashi

Kyoto University
Abstract

In this paper, I will deal with 'converted-Buddhists', Buddhist-Dalits, in western UttarPradesh, focusing on their religious-ritual practices and narratives. In previousstudies, scholars have studied whether Buddhist-Dalitscan distance themselves fromHindu beliefs and practices and, if so, the extent of their separation. This perspectiveis based on the idea of 'discontinuity'. However, I would like to consider conversionnot from the viewpoint of 'discontinuity' but from that of 'continuity'. On the onehand, Buddhist-Dalitsideologically adopt Buddhist practices; on the other hand,they selectively or syncretistically continue to follow certain Hindu traditions. This isbecause Buddhist-Dalits need to negotiate with Hindu relatives in determining theirstatus and position in society.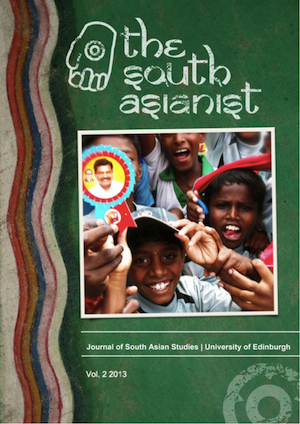 How to Cite
Funahashi, K. (1). Living as a 'minority': A case of Buddhist-Dalits in contemporary Uttar Pradesh. The South Asianist Journal, 2(1). Retrieved from http://www.southasianist.ed.ac.uk/article/view/145

This is an Open Access journal. All material is licensed under a Creative Commons Attribution-NonCommercial-ShareAlike 4.0 International (CC BY-NC-SA 4.0) licence, unless otherwise stated.
Please read our Open Access, Copyright and Permissions policies for more information.