The Newars of Sikkim: reinventing language, culture, and identity in the diaspora - By Bal Gopal Shrestha
Khushi Pradhan

Sikkim University
Abstract
Sikkim is a tiny Indian state nestled in the lap of the Himalayas. The population mainly comprises the three ethnic communities of Bhutia, Lepcha, and Nepalese. The Nepalese themselves are composed of different ethnic groups, of which the Newars, at 5%, constitute a small, albeit significant, part. Bal Gopal Shrestha's The Newars of Sikkim is the first attempt at providing readers with insights into the lives of this small community residing in the erstwhile Himalayan kingdom of Sikkim. The ethnography focuses on the ongoing process of reinventing and reinterpreting the language, culture, rituals, and traditions by the Newar diaspora in Sikkim. Through this process, as Shrestha shows, the Newars have been able to construct an ethnic identity that is distinct from their counterparts in Nepal. The content of the book is organised into nine chapters and is supplemented with thirty three colour illustrations and ten black and white ones, including a facsimile of an historical letter addressed to the then King of Sikkim.
References
Choedon, Y. (1995), 'Cultural Evolution of Sikkim: A Survey', Bulletin of Tibetology 31(1): 73-77

Cohen, R. (1997), Global Diasporas: An Introduction, London: UCL Press and Seattle: University of Washington Press

Shrestha, B.G. (2015), The Newars of Sikkim: Reinventing Language, Culture, and Identity in the Diaspora, Kathmandu: Vajra Books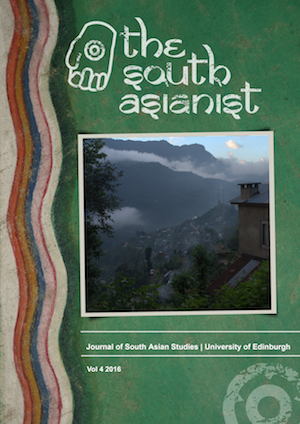 How to Cite
Pradhan, K. (2016). The Newars of Sikkim: reinventing language, culture, and identity in the diaspora - By Bal Gopal Shrestha. The South Asianist Journal, 4(2). Retrieved from http://www.southasianist.ed.ac.uk/article/view/1339

This is an Open Access journal. All material is licensed under a Creative Commons Attribution-NonCommercial-ShareAlike 4.0 International (CC BY-NC-SA 4.0) licence, unless otherwise stated.
Please read our Open Access, Copyright and Permissions policies for more information.