Social science research and inclusive polices: a focus on Adivasis, Dalits and Muslims
Suryakant Waghmore

Hugo Gorringe
Abstract

TISS and University of Edinburgh received UKIERI funding for an innovative collaboration on the themes of "Marginal Populations, Social Mobilisation and Development". This thematic collaboration focuses on marginal populations – Dalits, Muslims, and Scheduled Tribes – and analyses their adverse incorporation into or exclusion from processes of development in India. A two-day workshop in Mumbai in August 2012 focused on Social Science Research and the possibilities for inclusion of Muslims, Adivasis and Dalits. It involved interactive and deliberative exchanges amongst advocacy groups, policy makers and representatives of marginal populations as well as academic experts. The discussions offered rich insights into the dynamic social contexts of marginalised groups and processes of development (defined in a broad sense). We have, therefore, sought to share some of the insights of the debates with a wider audience through this summary of the workshop.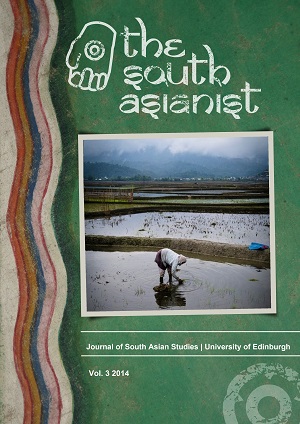 How to Cite
Waghmore, S., & Gorringe, H. (2014). Social science research and inclusive polices: a focus on Adivasis, Dalits and Muslims. The South Asianist Journal, 3(1). Retrieved from http://www.southasianist.ed.ac.uk/article/view/1055
Section
Special Submissions

This is an Open Access journal. All material is licensed under a Creative Commons Attribution-NonCommercial-ShareAlike 4.0 International (CC BY-NC-SA 4.0) licence, unless otherwise stated.
Please read our Open Access, Copyright and Permissions policies for more information.